Removing & Deinstalling PiCockpit
We're sad to see you go. But we want to make it as easy for you as possible, and would love if you would give us another try in the future!
Step 1: Delete the Raspberry Pis
Go to the My Pis overview, and click on the Actions menu. Click "Delete Pi" for every Pi:

Confirm the deletion:

You'll see a confirmation:

This will also stop and disable the picockpit-client service on your Raspberry Pi (as of version 2.0).
Step 2: Delete your API keys
You can delete your API keys in the Backend:
https://picockpit.com/user-profile#!#tab_api_keys

Click the trash icon next to the entries to delete them. Careful! Clicking the trash icon will immediately delete the API key, without double-checking with you.

Step 3: Purge picockpit-client
When deleting the Raspberry Pi from the webinterface, picockpit-client was automatically stopped and disabled. If you want to remove the picockpit-client package from your system, you will have to purge the package. Run, in the terminal of your choice, the following:
sudo

 

apt

-

get

 

purge

 

picockpit

-

client
It is safe to leave picockpit-client on your Raspberry Pi after deleting the API keys and the Pi in the frontend, since the Raspberry Pi should not be able to connect to picockpit.com anymore (and the service is disabled).

That's us trying to convince you to stay 😉
Step 4: Delete your account
Starting with v2.1 of PiCockpit, you can delete your account from the webinterface. Click on your account name in the top right corner to open the user menu: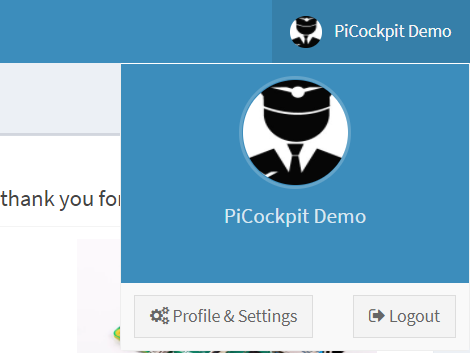 Click on Profile & Settings. In the "Profile" tab, you are now able to Delete your account: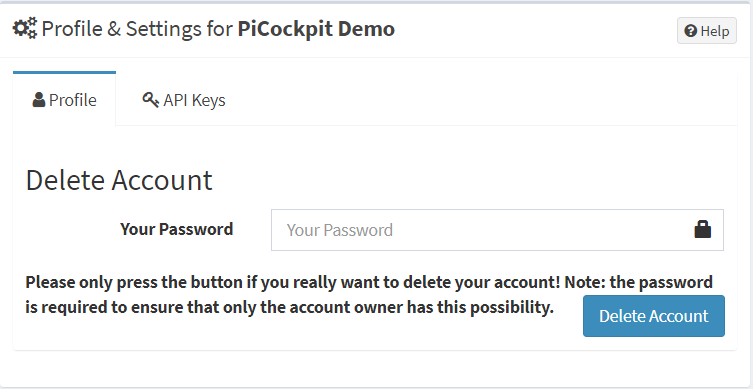 Enter your password here to confirm ownership of the account, and click on "Delete Account". This will remove your account data from our system.
Careful! This action can't be undone – and there is no additional "are you sure check". Only click on "Delete Account" if you really want to delete your account.
Your feedback is really helpful to us!
Please also give feedback why you decided to remove PiCockpit, so that we can continue to improve and fix our mistakes.