PiCockpit v2.6.5 released (part one)
Just now, PiCockpit v2.6.5 has been released (the Web UI – there is no new picockpit-client yet, we're working on it).
Important: force-refresh
If you have been using PiCockpit before, the old JavaScript files which run the webinterface might still be cached in your webbrowser. It is therefore a good idea to press Ctrl while clicking on the Reload button, this will force a hard reload from our server. You just need to do this once (until the next release).
New User profile
click on your profile name to get to the user profile:

This will take you to the user profile page: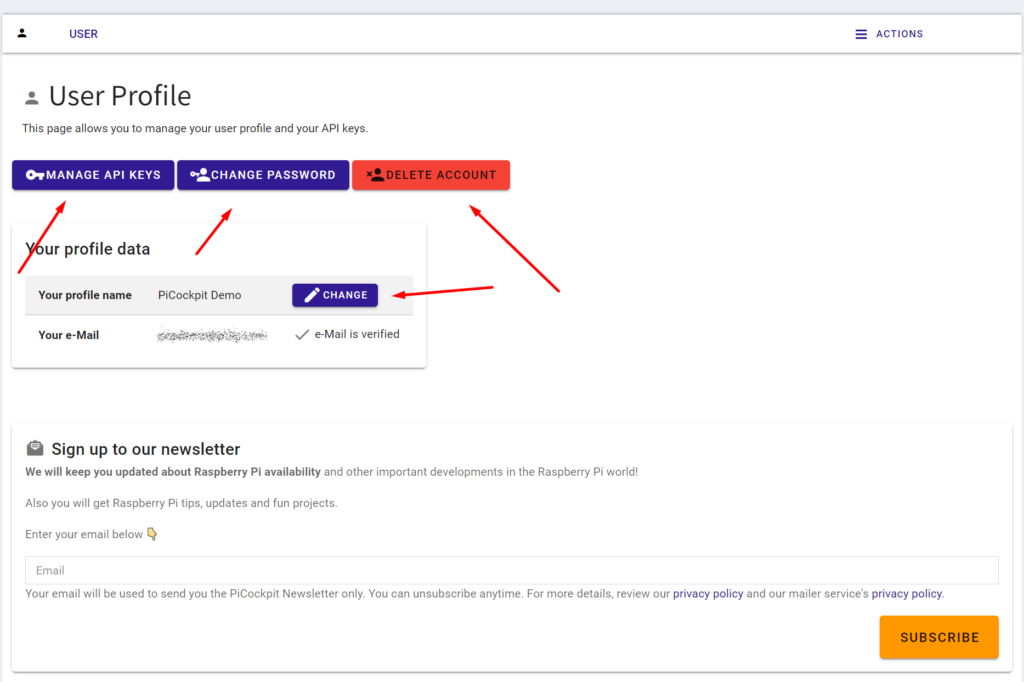 I have updated the user profile to the new design. It now also has several additional functions.
Manage API Keys
Clicking on the manage API keys button you will go to the Manage API Keys page. Here you can add new API keys, delete API keys, and rename API keys.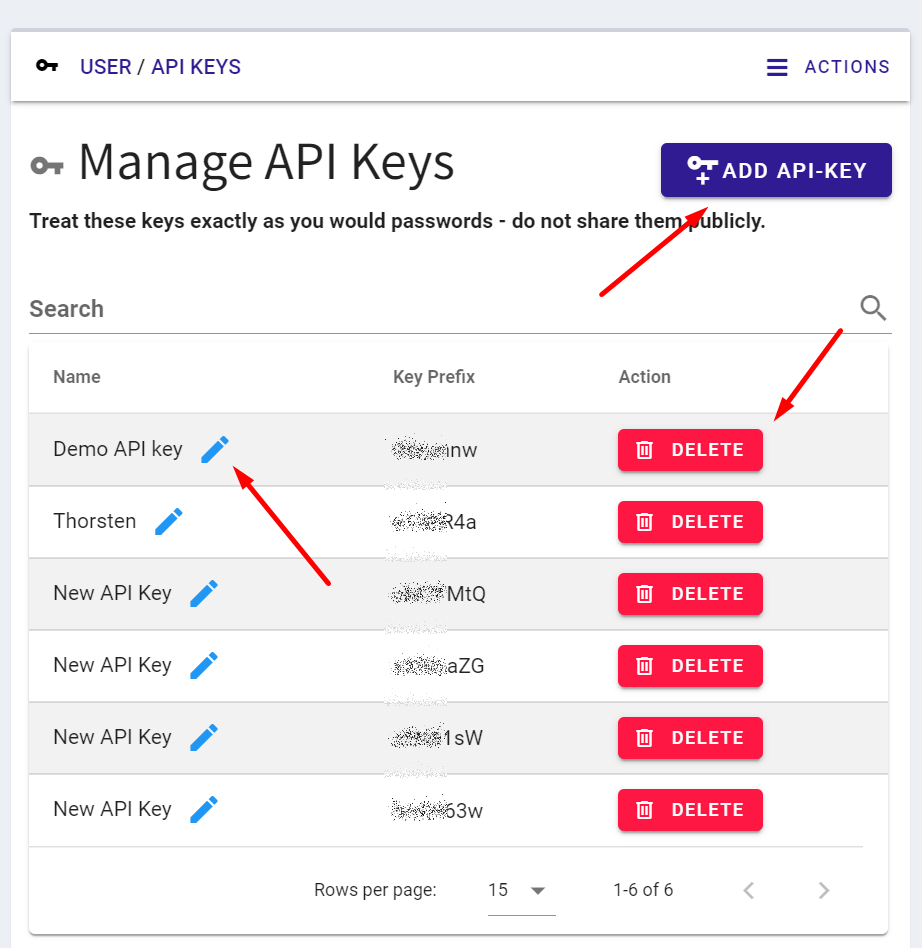 To add a new API key you will need your password (as before).
Note: API keys are useful if you want to add several Pis to PiCockpit at once, or in an automated fashion. To add just one Pi, we recommend to simply click on the Add new Pi button in the My Pis Tools section: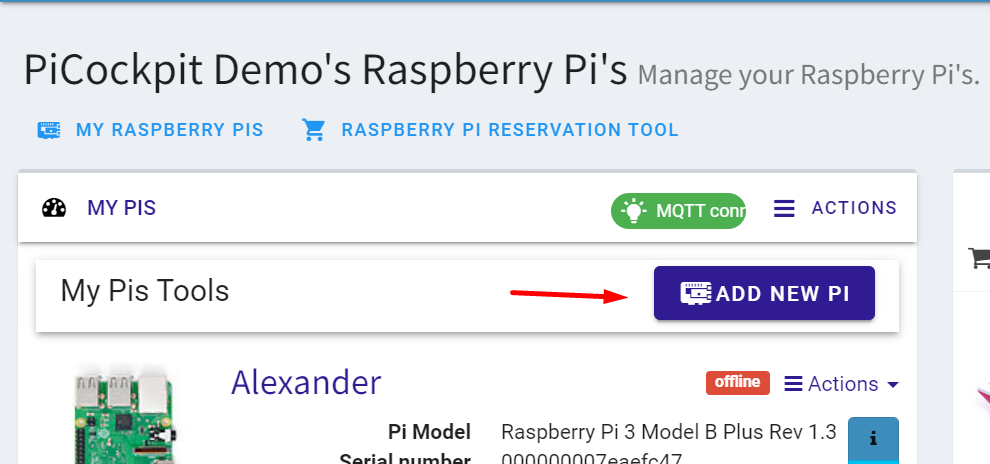 This will generate a script for you which you can simply run on the Pi you want to add, and you will not have to transfer the API key manually.
Change Password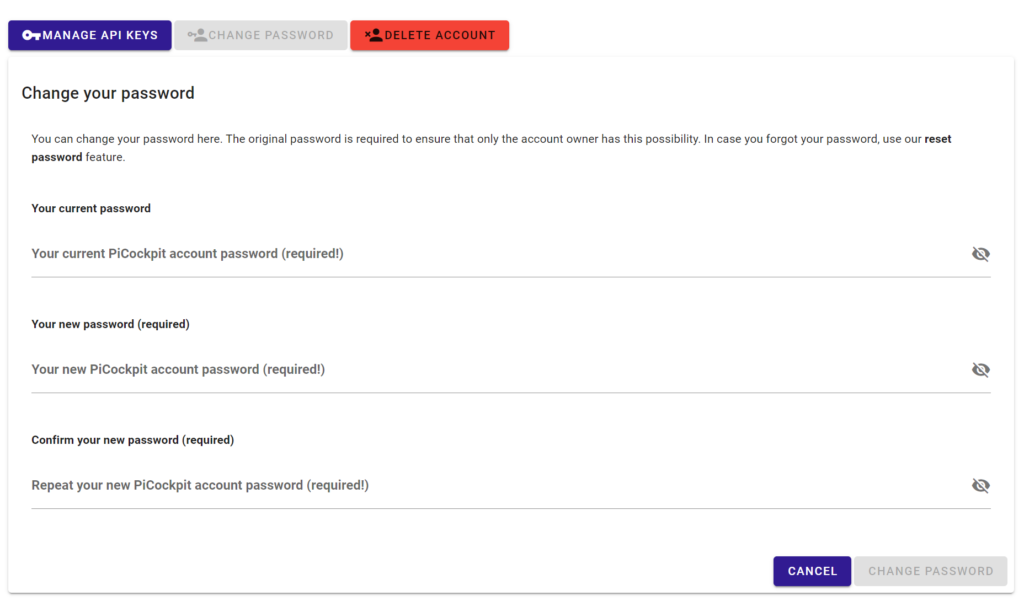 Clicking Change Password will open three fields – enter your current password, and the new password twice, then click on Change Password.
You will receive an e-Mail which confirms the password change. This is for security reasons – so you will be immediately aware of any unauthorized password changes.
Note: if you have forgotten your current password, you can reset it using our password reset feature.
Delete Account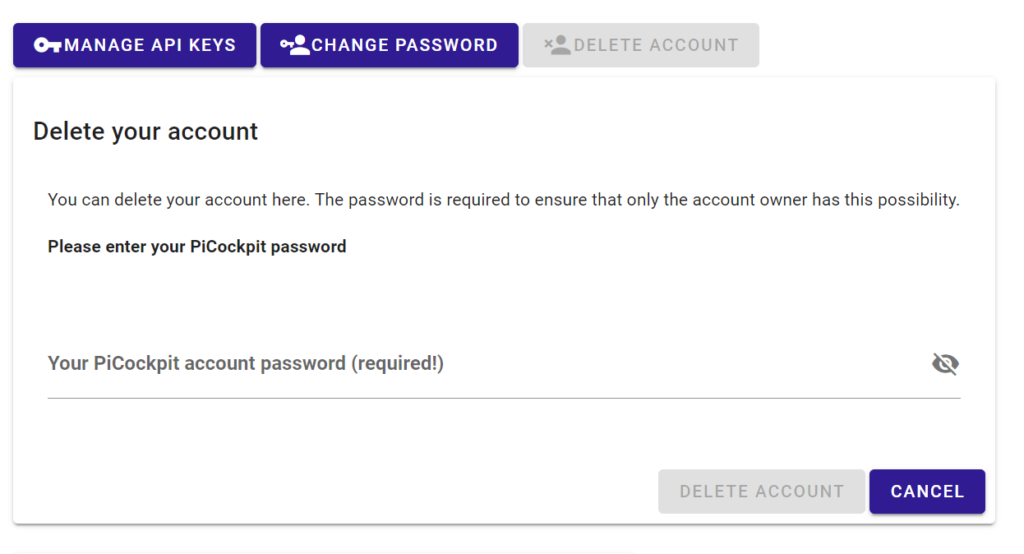 Clicking on the delete account button will open a field to enter your password. Clicking on Delete Account will open a dialog which will ask you to confirm the deletion.
If you choose to delete your PiCockpit account, please let us know what we could improve going forward – your opinion is important to us.
Changing profile name

Changing your profile name is now possible. This is currently purely cosmetic – you will continue to use your e-mail address for login.
You will have to log out and log back in again after the change for the name change to be reflected everywhere.
Verify email address

Until your profile email is verified, a "Verify" button will show, which will resend the profile verification e-mail to you.
Profile verification is important, as we will work to introduce Picockpit Pro with additional premium features in the next year. Also it allows you to reset your password, participate in the Picockpit Raspberry Pi Reservation tool and more.
Faster navigation
Navigation has been accelerated – without full page reloads – in some cases.
What about part 2?
part 2 is a Christmas surprise, we're working on it 🙂