An M.2 PCIe HAT for Raspberry Pi 5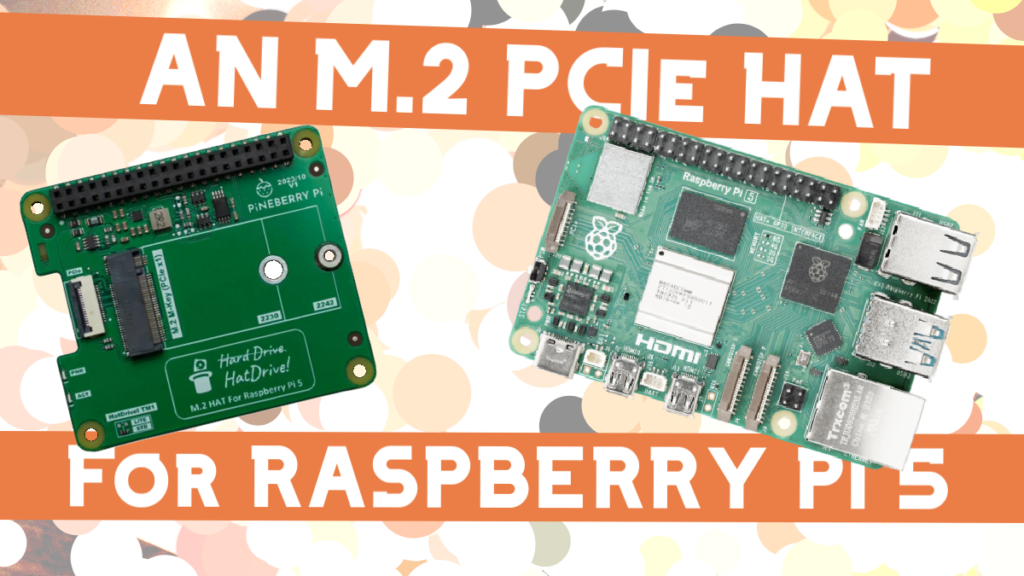 From the moment that Raspberry Pi Ltd. announced Raspberry Pi 5 on September 28th, the internet has been buzzing with all of the potential of the PCIe port. Raspberry Pi has opened up a whole new world of possibilities. And now, one of them becomes a reality with the introduction of Pineberry Pi's HatDrive!, an M.2 PCIe HAT for Raspberry Pi 5.
They also a HatDrive! Bottom that allows you to mount your Raspberry Pi 5, all while giving you extra storage. Although the form-factor is a bit larger, it could also be an ideal Pi 5 companion board if that's what you're looking for.
Raspberry Pi 5 have their own official M.2 HAT on the way, but they have yet to announce it. They're going to have some clear competition here.
So in this article, we'll go over the idea behind a HAT like this, its specs, and its cost and availability.
An M.2 PCIe HAT
A HAT, which stands for Hardware Attached on Top, is an add-on board that you can connect to a Raspberry Pi. HATs extend a Raspberry Pi's capabilities through sensors or other interfaces (like PCIe).
So an M.2 PCIe HAT uses the PCIe port on Raspberry Pi 5 to connect M.2 M-Key devices to the Pi.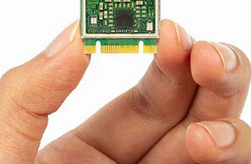 M.2 is a type of socket for expansion cards, SSDs, and other peripherals. M.2 sockets are "keyed", which means that they come with different partitions. In the picture above, for example, the M.2 connector works with B-Key and M-Key (look at the gaps).
M.2 can support different interfaces, such as PCIe, SATA, and USB.
Of course, HatDrive! connects to the PCIe port on Raspberry Pi 5. The PCIe port makes it possible to hook the Pi up to a high-speed NVMe SSD, a graphics card, or other peripherals.
A Raspberry Pi typically relies on microSD cards, which are neither very fast nor very reliable. This is what makes an M.2 PCIe HAT like HatDrive! so exciting!
With HatDrive!, you'll be able to connect a super fast SSD or maybe even a Google Coral M.2 AI Accelerator and turn your Raspberry Pi 5 into a computer with seriously high data throughput.
So now let's get into the specs of HatDrive!
HatDrive! Specs
As mentioned at the beginning of this article, there are actually two forms of HatDrive! – one for the top and one for the bottom.
So I'll start with HatDrive! Top.
HatDrive! is a 4-layer PCB that Pineberry Pispecifically functions with a Raspberry Pi 5. It connects to a Raspberry Pi 5 via the GPIO pins and the PCIe port.
As you can see in the photo, the HAT supports NVMe (again, M-Key) drives that are either size 2230 or size 2242.
According to the website, it also supports both Gen 2 and Gen 3 speeds for the PCIe interface. You might have noticed that Raspberry Pi 5 officially only comes with Gen 2 speeds, but it actually has a Gen 3 connector. That's what makes it possible for the HatDrive! to tap into PCIe Gen 3 speeds.
The HatDrive! Top also has a standard Raspberry Pi HAT size – 65 x 56.50 mm, which means that it can fit with an official case, although you'll have to remove the fan and you won't be able to use an Active Cooler.
This can be a bit problematic, because, as I've written about extensively, you're likely going to want active cooling for your Raspberry Pi 5.
But if you're nervous about heating, then you can check out the HatDrive! Bottom.
The HatDrive! Bottom serves as a mounting board for your Raspberry Pi 5 and will allow you to keep the SoC actively cooled. It will also allow you to attach M.2 NVMe (once again, M-Key) drives that are 2230, 2242, or 2280.
2280 is the typical size for NVMe modules.
The one drawback is that the HatDrive! Bottom is a bit bigger at 90 x 56 mm.
Price & Availability
First of all, it's worth pointing out that Pineberry Pi is a brand new company, having been founded at the end of September, 2023. So, the speed with which they've announced this HAT is particularly impressive.
It's also worth mentioning that when you order, it comes with a FPC PCIe ribbon, spacer pins, M2.5 screws, a spacer pin for M.2 card mounting, and an optional 28-pin male-to-female HAT connector.
With that said, the HatDrive! Top will run you €20.00 + shipping & taxes.
Meanwhile, the HatDrive! Bottom costs €25.99 + shipping & taxes.
Since the products are designed and assembled in Poland, you'll want to be sure to double-check what that will add up to.
Conclusion
So if you want to see how high you can get the throughput going on your Raspberry Pi 5, HatDrive! is absolutely one of the ways to go.
You can head over to their website for more information.
And don't forget to sign up for our Newsletter (at the top right of the page) to keep up with Raspberry Pi news and products!