fast Raspberry Pi Online Monitoring: PiCockpit v2.0 is now faster!
With PiCockpit, you can monitor your Raspberry Pis from any webbrowser. The Raspis can be in any network, as long as they have an internet connection – thanks to the magic of MQTT.
Web overview of your Raspberry Pis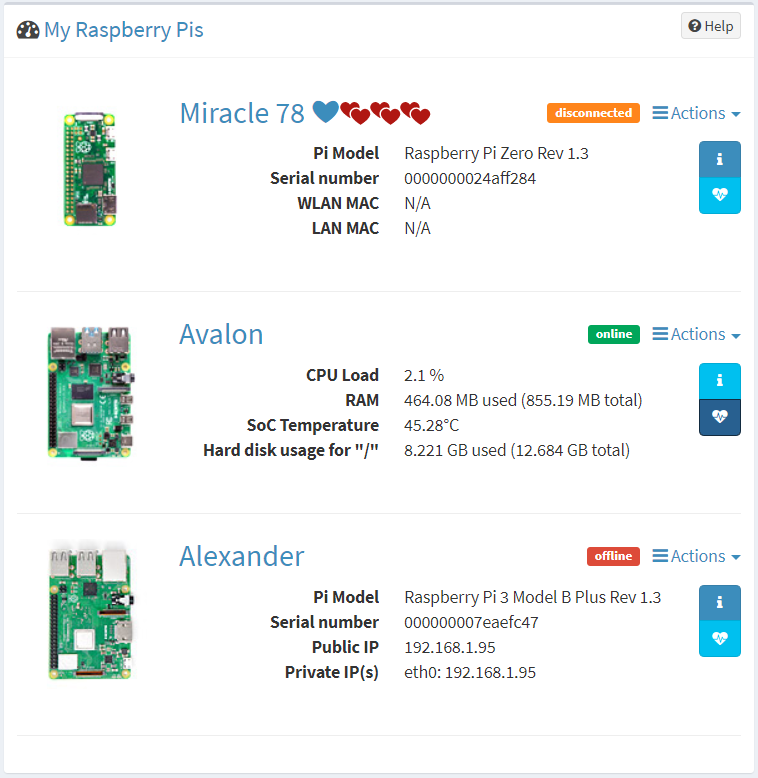 As you can see in the screenshot, you are able to see important statistics, as
CPU Load
RAM usage
SoC temperature
hard disk usage
Public & Private IPs
Raspberry Pi model
Raspi serial number
at a glance.
Accelerated thanks to gzip compression
Just a couple of minutes ago, I have applied a modification to the web server configuration: now all text files (JavaScript, HTML, CSS) which PiCockpit needs to run in your web browser are being served using GZIP compression!
This is good news for two reasons:
Your network bandwidth will be used more efficiently – this is especially important on mobile networks!
PiCockpit will start up faster and connect faster than before 🙂
Improving PiCockpit: making the Raspberry Pi even easier to use
Our goal here at PiCockpit is to make your Raspberry Pi experience awesome! We continue to make technology like controlling GPIO pins easy to use, and will continue to improve performance and functionality with every PiCockpit release.
What feature would you love to see in PiCockpit? Comment below, and we'll pick the most popular requests for inclusion in our next release.