What can I use PiCockpit for on the Raspberry Pi?
We currently have four apps you'll be able to use once you have set up PiCockpit:
PiControl: control your Raspberry Pi using buttons in the PiCockpit web-interface. Read more about PiControl (includes a sample how to create your own commands)
PiDoctor: test your Raspberry Pi, find out where it was manufactured, whether the power supply is strong enough, etc.
PiStats: live statistics / monitoring of your core Raspberry Pi vital parameters (SoC temperature, RAM usage, CPU load, etc.)
GPIO: control and read GPIO pins. Includes a SoftwarePWM capability (dim LEDs!)
Watch this video to get a guided tour of what is inside PiCockpit right now, or read the transcript here:
Installation
You need to create an API key, and install the picockpit-client on any Raspberry Pi you want to connect to your Raspberry Pi. Please follow the instructions on this page: Installation of PiCockpit.
My Raspberry Pis overview screen
The My Pis overview screen shows you your Raspberry Pi at a glance:
Raspberry Pi model
Raspberry Pi Serial number
public and private IP addresses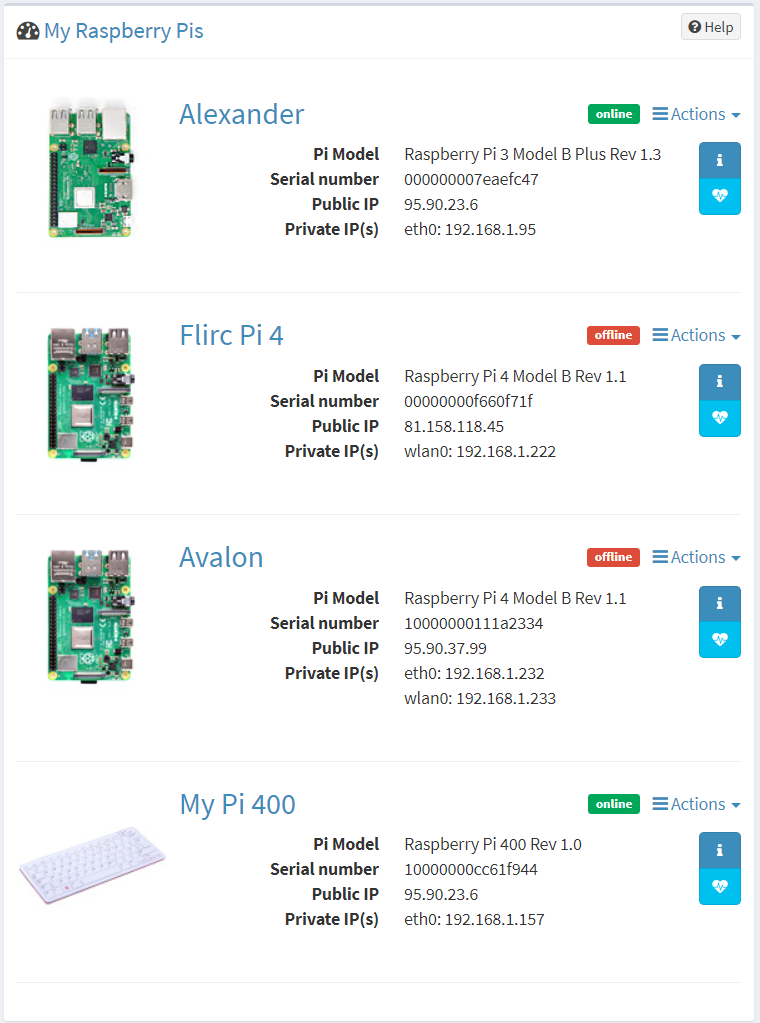 Click on the heartbeat icon to change the view to vital statistics:

You can also Ctrl + Click on the heartbeat and info icons to change the view of all Raspberry Pis at once.

Quick PiCockpit tips
Using the Actions menu you can rename or delete your Raspberry Pi, or see the app overview ("View Pi Details").

Click on the icon or title of the Raspberry Pi to see the app overview for this particular Raspberry Pi:
App overview for individual Raspberry Pi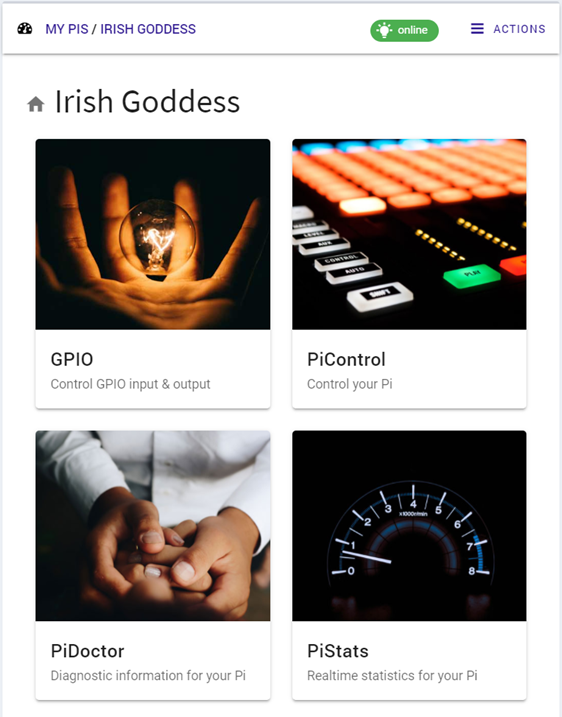 App documentation
Access the detailed help pages for the individual Apps, to learn more about them:
Troubleshooting
Please have a look at these troubleshooting guides for PiCockpit:
Contact & Support
If you have questions or suggestions, or want to inquire about pricing for a bigger number of Raspberry Pis, please contact us using the linked form.
We're also here to support you, if you run into trouble using PiCockpit! Please help us help you, by reading through all the information available in this help area, thank you 🙂
Tips

You can add up to five Pis free of charge to PiCockpit.com.

Support the development of PiCockpit by shopping with buyzero.de

Raspi Berry's useful tips for Raspberry Pi beginners
FAQ
Cost
PiCockpit is free to use for up to 5 Raspberry Pis. Please get in touch with us if you want to use it for more than 5 Raspberry Pis.
How can I remove PiCockpit?
Removing PiCockpit is simple. Please follow the instructions on this page.