Paragon Project: Mike Horne's Extremely Mini Cyberdeck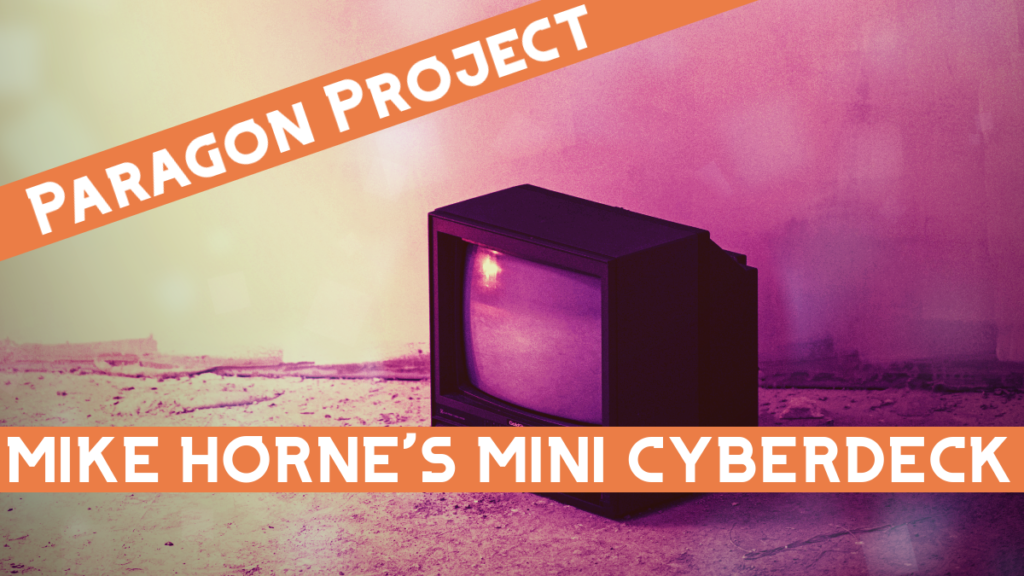 Have you ever wondered how small you could get your computer? Well Mike Horne has managed to create one roughly the size of a banana! It's his extremely mini cyberdeck and it's a perfect project to include in our Paragon Projects series!
Mike has managed to fit a full cyberdeck inside a mini flight case and has posted a full blog post on his website about the project.
We've featured a number of cyberdecks in our Paragon Projects series, but if you're new to the world of cyberdecks, they are typically portable computers that people make with an eye towards aesthetics.
For this project, Mike has been kind enough to share an outline of the hardware and software he used in developing this extremely mini cyberdeck.
Hardware
The first thing you'll need is a Raspberry Pi Zero 2 W, because that's what the cyberdeck runs on at its core. Mike decided to hook that up to a LiPo battery.
Mike also used a Pimoroni Enviro, which is a BME280 sensor that can detect heat and air quality. Through some ingenuity, Mike decided to use his Enviro+ to power the Pi.
After connecting all of that to a 5″ LCD screen from Waveshare, Mike then determined that it was necessary to drill the screen to lid in order to get everything mounted properly.
In the blog post, Mike details the quest to find a working keyboard for the cyberdeck. Ultimately, Mike found that Bluetooth wasn't as reliable as a 2.4GHz keyboard – no surprises there.
Did you think I was exaggerating about how small this cyberdeck is?
That makes it perfect for traveling and perfect for hacking!
Software
A cyberdeck like this is not only fantastic for having a portable workstation, it's also fantastic for specific projects.
For instance, you could use this for penetration testing or other (ethical) hacking activities. Indeed, Mike decided to go with Kali Linux (a hacker's best friend).
You can check out the GitHub here, where Mike uploaded the code for the project. You'll need Python 3.6 or newer to run the code, but the idea is that it provides two distinct modes.
Mode A gives you everything from the Enviro – heat, air quality, etc. Mode B gives you the the stats on the CPU.
Of course, it behooves me to mention here that you could also use PiCockpit to check out all this information, which would be an entirely free service for up to five of these cyberdecks!
But even without PiCockpit, this project will definitely serve your cyberdeck needs well!
Conclusion
Like all of Mike's projects, I love the creativity and practicality of this extremely mini cyberdeck.
In the world of cyberdecks, there are those who create their cyberdeck cases with 3D-printers and those who create their cases with prefabricated stuff. (Mostly, though, people use both, of course).
My favorite cyberdeck projects tend to be those made with prefabricated cases.
If you want more details about Mike's journey to create this cyberdeck, you can check out his blog post on the cyberdeck here.
And, as always, if you want to see more Paragon Projects, you can click here.
Where would you go with a super small cyberdeck?