PiCockpit frontend v2.7.0 is here!
PiCockpit v2.7.0 has been released today! We recommend for everyone to force-refresh their web interfaces using Ctrl + Click on the reload button, so you can enjoy the new experience!
What's new in PiCockpit v2.7.0?
New fresh look for v2.7.0!
PiCockpit v2.7.0 sports a fresh look, with the side ("ad") section having been removed in favor of giving more space to PiCockpit itself. The top has been trimmed a bit as well – the navigation between My Pis and the Raspberry Pi Reservation tool is still there, but we felt the title of the page is unnecessary, given that you have a breadcrumb at the top as well!
We hope that you will enjoy the fresh uncluttered look – any feedback is greatly appreciated, post it in the comments in this article!
Compare the look of PiCockpit v2.6.5 and the new interface: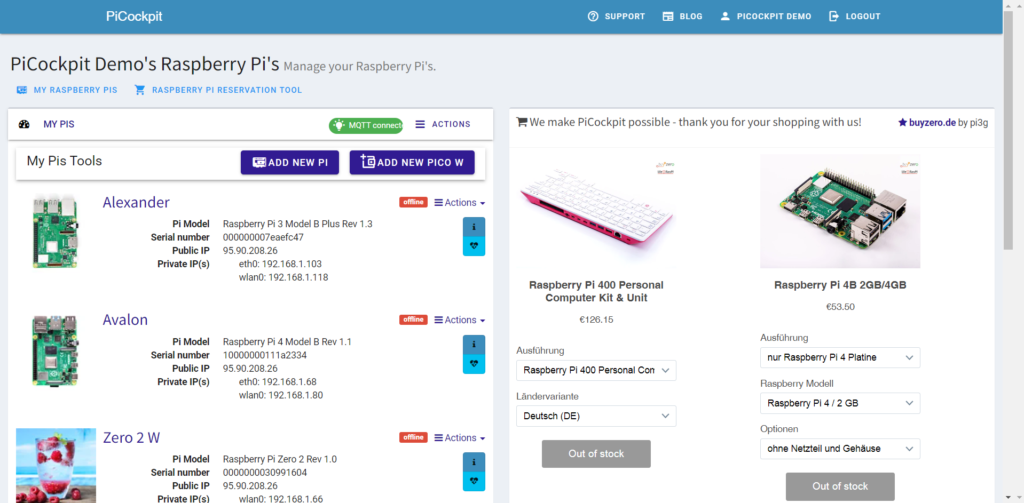 Under the hood, a further integration of the application into Vue.js has been achieved – which is going to be the base for faster navigation and page loading, and a simpler backend design. It's continued preparation for the next features to come!
Support of German translation!
Our main page, picockpit.com has been available in English and German for a long time now. The same language switcher is now available for PiCockpit itself!
The translation is a work in progress, and we will prioritize areas people request a translation for.
Simply click on the "Deutsch" button in the header to switch the interface to German.
Please note: the switch is not persisted yet across sessions / if you browse to a new page (e.g. clicking on the user profile will browse to a new page). If you find the language switches back to English, simply press the button again. Also, the user area, for example, is not translated yet.
Bug fix
We're working on a bugfix for the password reset feature, which will currently give an error of "Captcha could not be verified", no matter whether we solve it correctly or not.