PiCockpit v2.7.2 released
PiCockpit v2.7.2 is here, and the interface is faster and smoother yet again!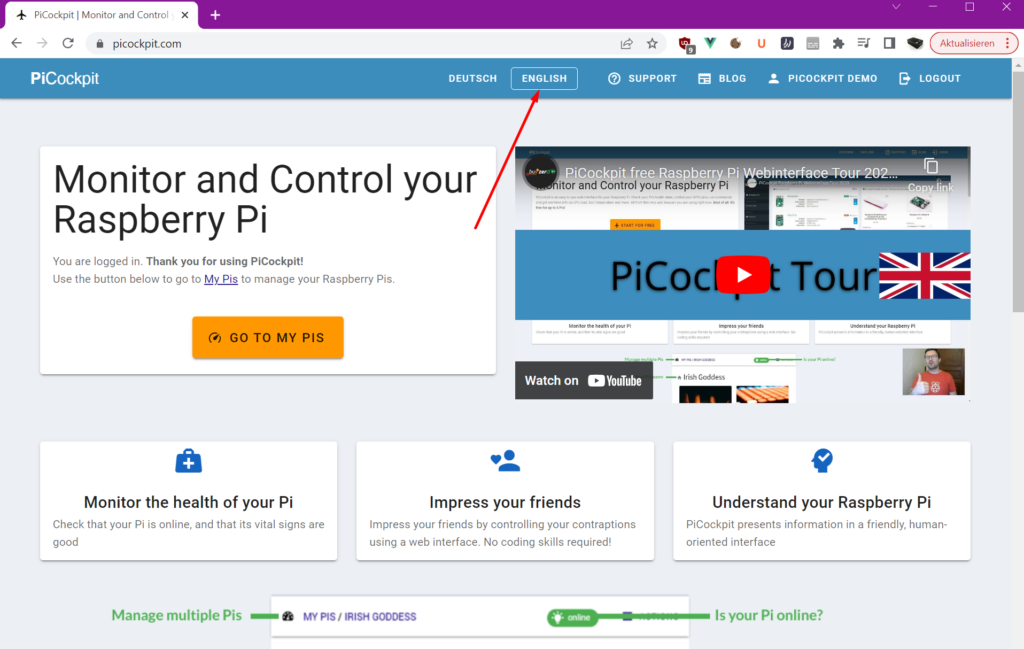 Important
Be sure to empty your browser cache / force-reload the page, as PiCockpit requires new JavaScript code to run!
Translation updates
The translation buttons have been updated to show the currently active translation.
More German translation has been added, the entire user profile area should also now be in German. (Click on "Deutsch" to enable the German translations).
Note: when you reload the page (the browser reloads the page) the language is currently not saved. This will be added in v2.7.3, your language choice will then also persist across sessions.
If you spot sections which are not translated yet, feel free to share this in the comments – or if an additional language would be great for you.
Note: I am aware that the apps are not translated yet, and also that the Raspberry Pi Reservation tool has only rudimentary translations in place. It's a process, with every version of PiCockpit more translation will be added.
New login
We are continuing to rebuild the application to enable a better integration of the frontend, and removing "static" pages from the backend.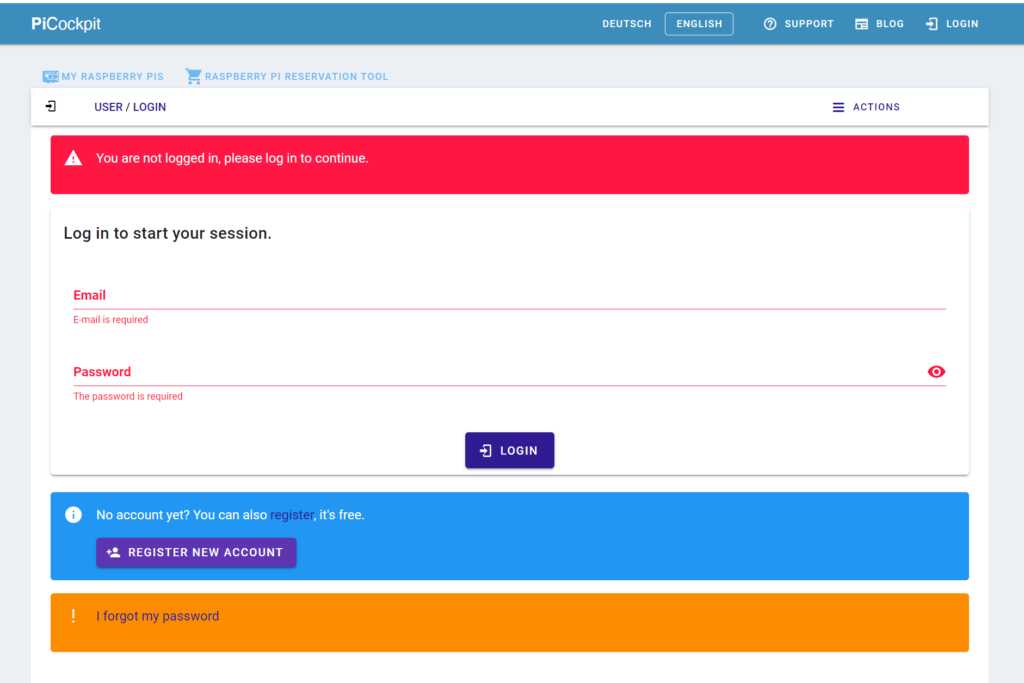 This is probably what you will notice most prominently – the new login dialog, which is now integrated into the main application and it's look and feel.
Here you will also find a button to register a new account, if you are new to PiCockpit, and a link to reset your password in case you have forgotten it.
Note: This is in preparation of an important security feature, which is to be fully implemented in a subsequent version. In turn, this security feature will enable other exciting and comfortable features for your Pis and Pico W's!
When adding API keys, updating your password, or adding new Pis / Pico W's using the My Pis Tools buttons, you will be prompted for your password. This dialog has been reworked as well: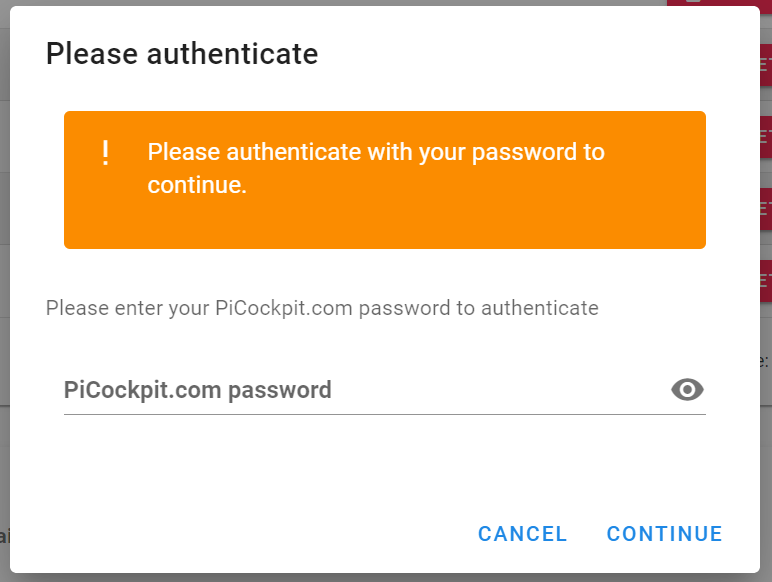 You will also get confirmations, for example when you press cancel:

Improved Pico W support (uf2 firmware)
The Pico W support has been improved, the firmware is now updated and should perform better.
I will let Hanno write his own article about this, as he was working on that, and an exciting new feature for the Pico W!
Note: as of 11.3.2023, 8:12, there seems to be an issue with patching the firmware with your WiFi credentials. We are investigating this, and will release a fix soon, hopefully today.
Update 11.3.2023, 11:35: This problem has been resolved, it was due to the browser using an outdated cached file. (see the end of this article)
Misc & v2.7.2 screenshot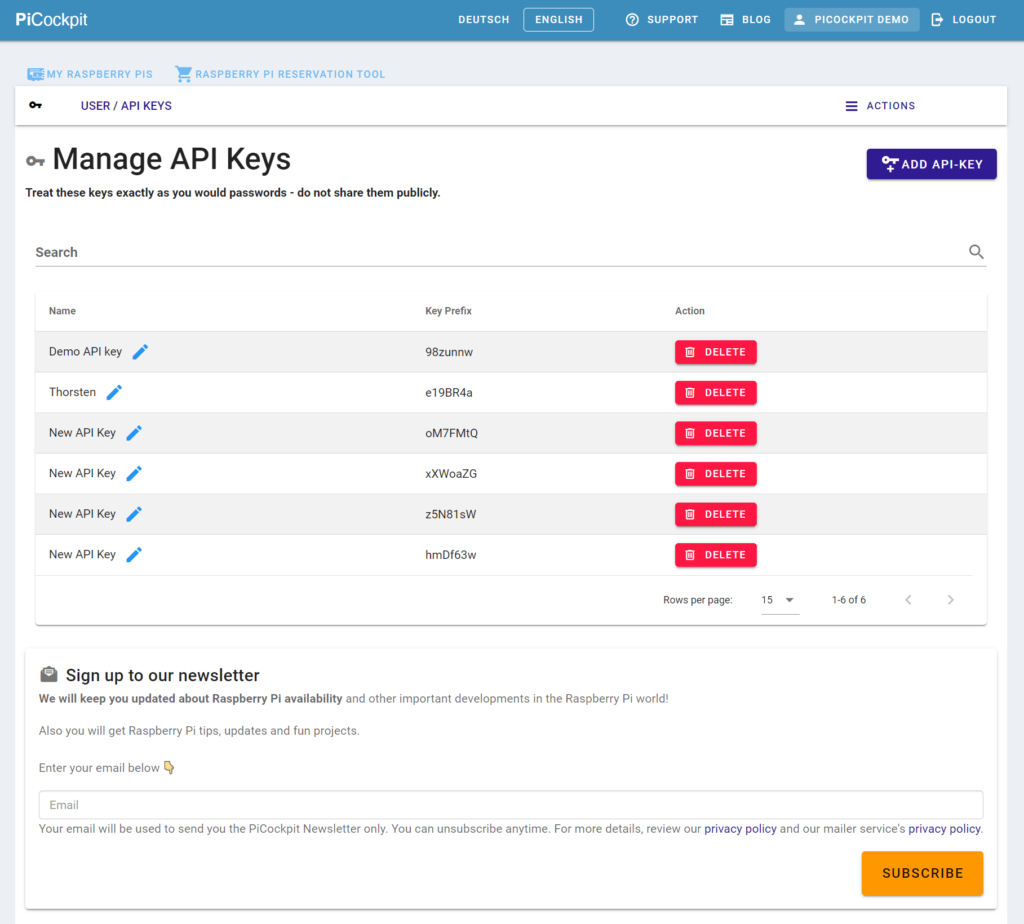 Here's a screenshot of v2.7.2, showing the API keys overview in the user profile.
Also:
Updated rename profile name to take effect immediately
integrated navigation between user profile and main application – faster and smoother navigation
removed a lot of old code (including unnecessary stylesheets) – which may explain why PiCockpit feels a bit different now (e.g. underlined links, etc.)
Looking forward to your feedback, and looking forward to release the next version with additional exciting features!
11:31 Update: Pico W patching problem solved
If you are getting the following error message:
there was an error with the downloaded image, could not find magic string to patch against (or the payload was too large)!
You should force-refresh your pcp_mainbundle.js
open this URL in your browser:
https://picockpit.com/pcp_js/pcp_mainbundle.js
Ctrl + Click on the reload button.
If you want to make sure you've got the right version of pcp_mainbundle.js, search for
cache-control
inside this file – if you can't find it, you still have the old version.
This will solve problems with the browser using outdated local .UF2 image templates, instead of pulling the newest from our server when creating a new Pico W .UF2 image.
Alternatively, emptying your browser cache should work!